Habitat for Humanity of Greater Charlottesville Strategic Plan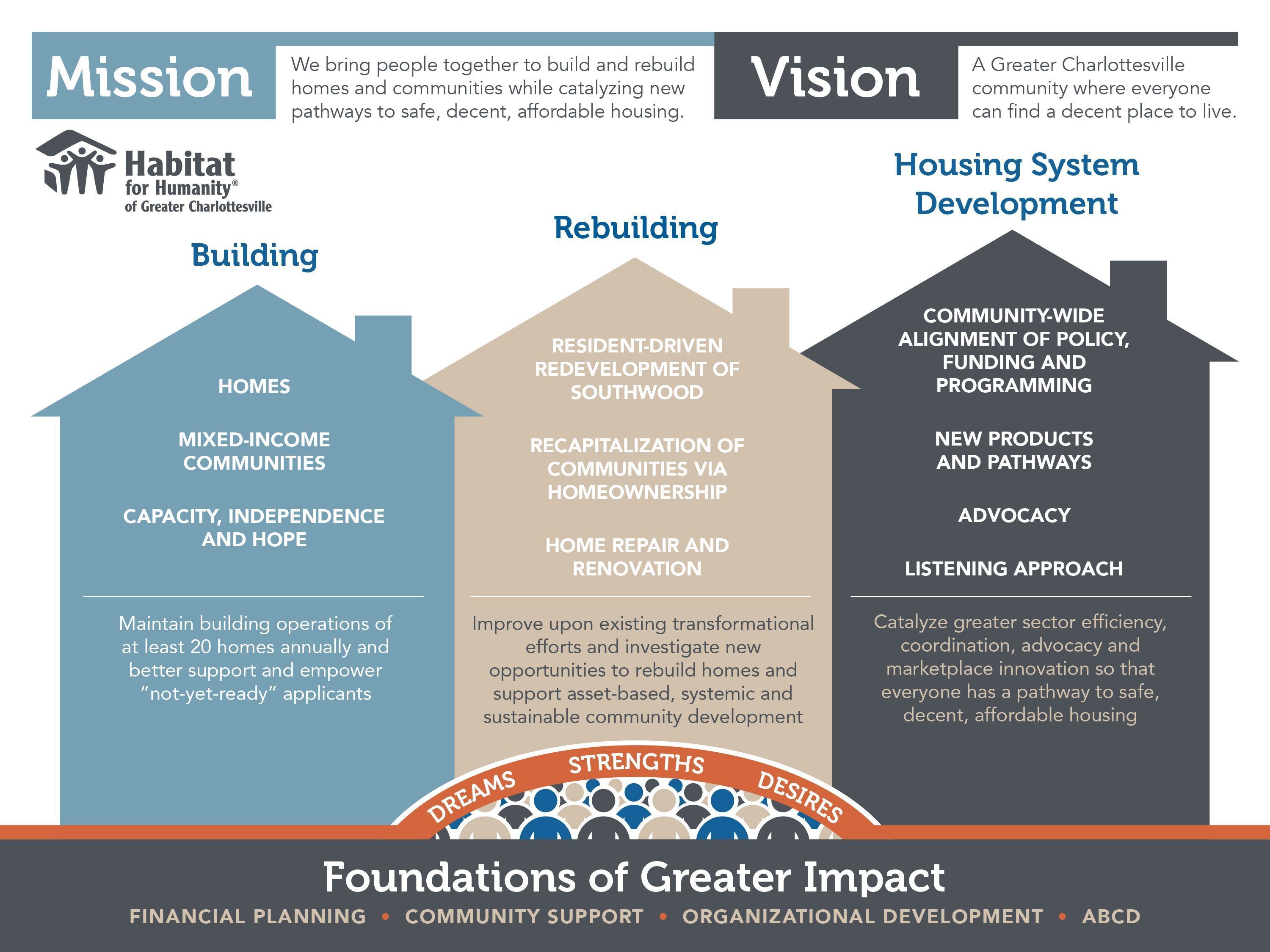 Our response to the local housing crisis is to innovate—and to think beyond the home so that more families can enjoy the benefits of a healthy home.
Our new strategic plan calls for us to leverage our core family homeownership work to catalyze new pathways to simple, decent, affordable housing for more people than ever before.
The three "houses" of the plan—Building, Rebuilding and Housing System Development —represent a holistic approach that will enable us to achieve impact at an unprecedented scale, directly addressing the conditions that cause housing poverty in the first place.
Building: We will maintain building operations of at least 20 homes annually and work to address generational poverty by better supporting and empowering "not-yet-ready" applicants.
Rebuilding: We will continue current transformational efforts of asset-based, systemic and sustainable neighborhood revitalization – including holistic, multi-sectorial and resident-centric redevelopment at Southwood and at existing neighborhoods in need of recapitalization; we will investigate new opportunities for neighborhood-scale partnerships; and we will utilize home repair and renovation as a force multiplier.
Housing System Development: We will dramatically increase our impact by catalyzing greater sector efficiency, coordination, advocacy and marketplace innovation so that everyone can find a pathway to decent and affordable housing.
These goals rely on a commitment to strengthen our foundations in strategic financial planning, private and public financial support, organizational development and asset-based community development.
Habitat Greene County Strategic Plan
As part of Habitat Greene County's five year strategic plan, the division is committed to building or rehabbing five homes and engaging in at least 60 home repair or ramp building projects.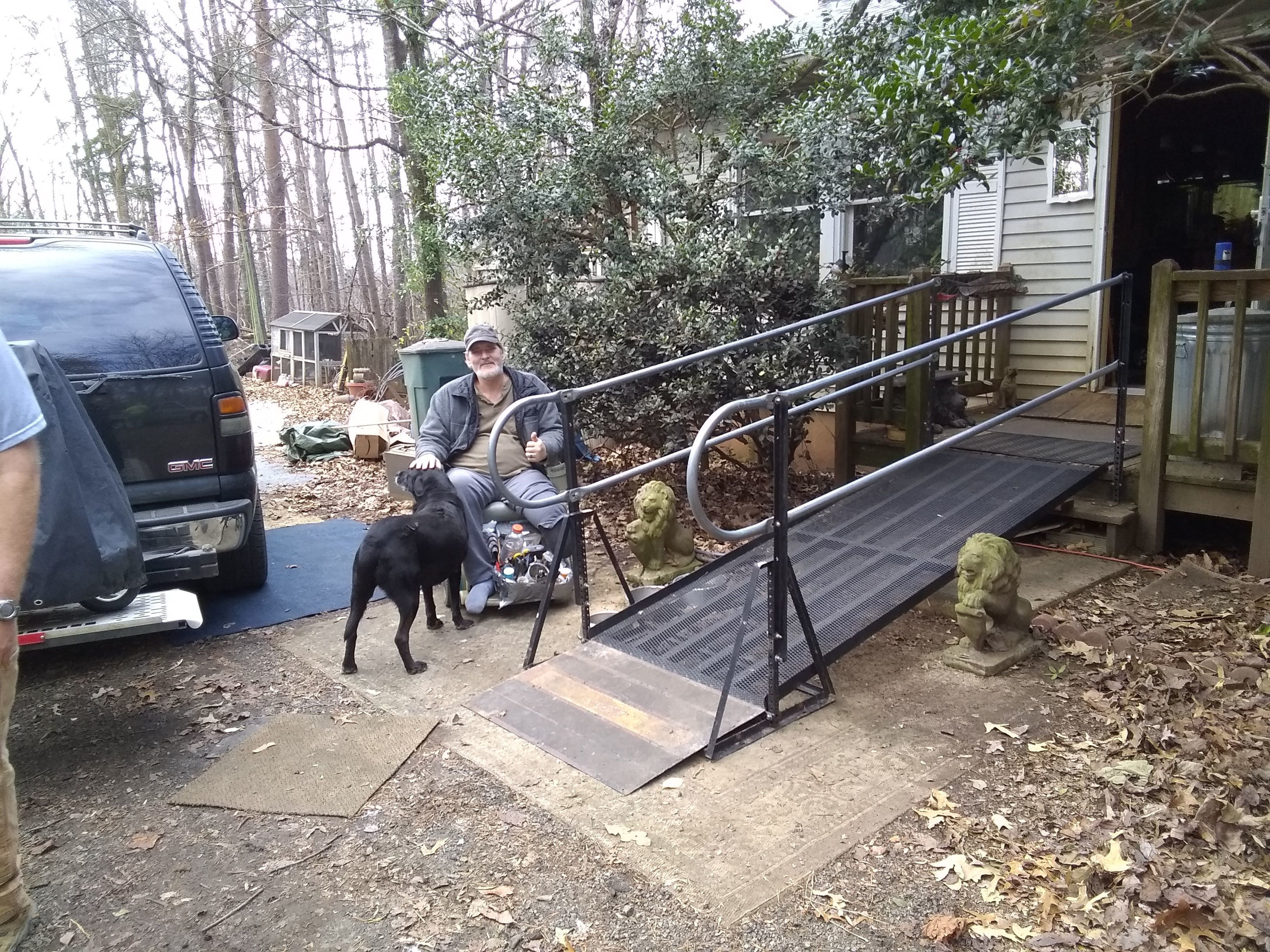 Habitat Greene's Relationship with Habitat for Humanity of Greater Charlottesville
Habitat for Humanity of Greater Charlottesville has been in operation since 1991 and currently serves Charlottesville, Albemarle, Greene, and Louisa counties. Over the last 30 years the affiliate has built more than 225 homes and supported tens of thousands of Central Virginia residents in gaining access to safe, affordable housing.
This year, Habitat for Humanity of Greater Charlottesville committed to a comprehensive regional approach to address the specific housing challenges in both the urban and rural areas of Central Virginia. The affiliate has historically built and rehabbed a few homes in the rural counties each year.
Working with a core group of long-time volunteers in Louisa and Greene, the Organization recently added a section to its strategic plan committing to building 30 homes, executing 80 home repairs, and impacting more than 200 families through advocacy work over the next five years.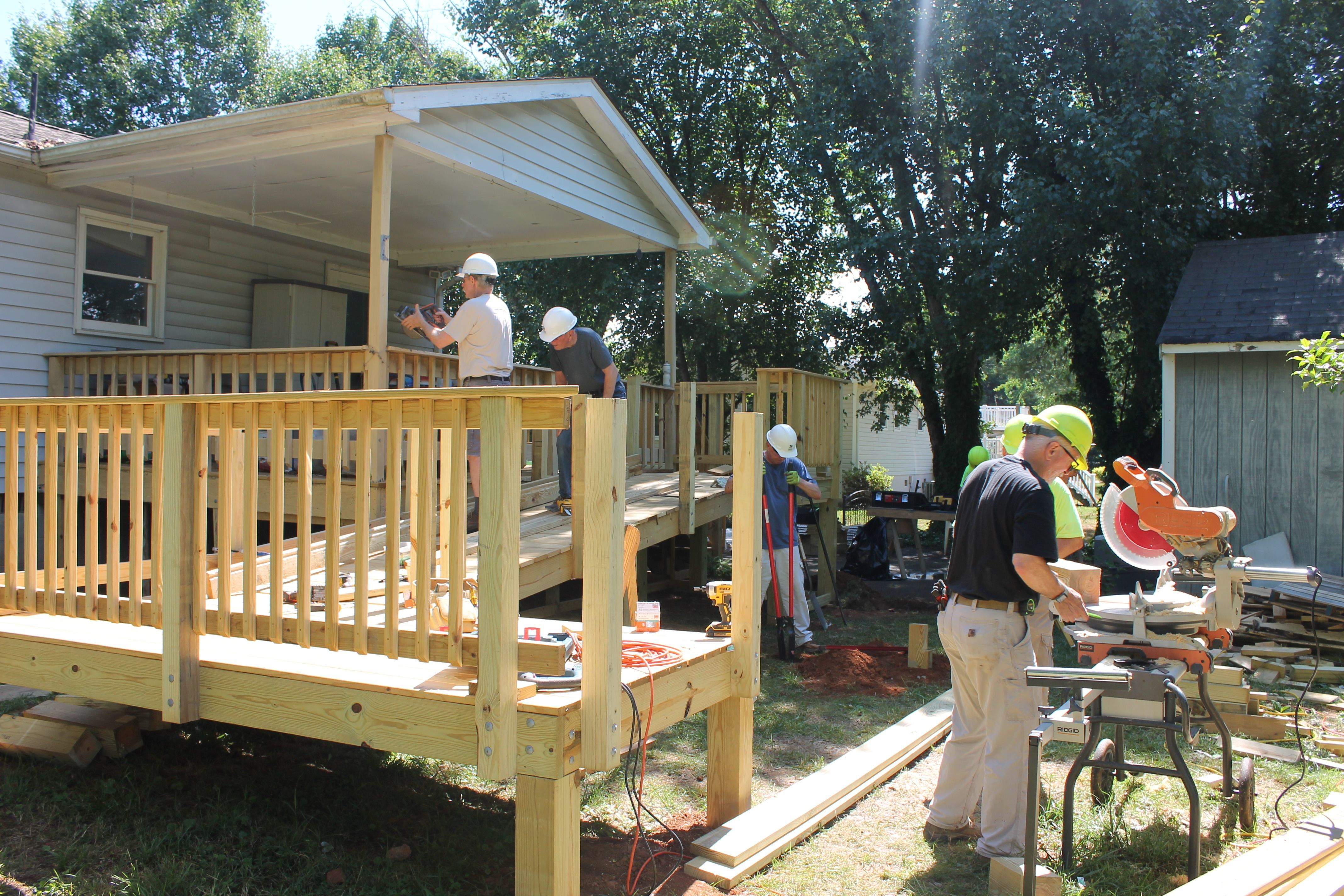 Habitat for Humanity Greene County: Our Story
Habitat for Humanity of Greene County, VA was founded as a division of Habitat for Humanity Greater Charlottesville Chapter. Since 2001, Greene County Habitat for Humanity has been building and renovating houses for qualified residents.
Within a year of our founding, Greene County Habitat for Humanity built its first house. Since then, this organization has built or renovated at least one home per year. The goal is to increase the number of projects until no family lives in substandard housing.
Through the work of dedicated volunteers, and help from community churches, organizations, businesses, individuals and schools, we've been able to provide affordable housing for low-income Greene County families.
We are committed to a world where everyone has a decent place to live. The homes we provide for low-wealth families can make a life-changing difference.  Decent, affordable housing can provide families a fresh beginning and brighter future.
We are extremely proud to be a valuable Greene County resource and a vital presence in the community.